Thermowood Kilns
Jartek has a leading position as a supplier of wood thermal modification technology throughout the world. ThermoWood®-technology is leading method on this field of wood modification and it is also platform for Jartek's technical solutions.
During two latest decades we have built more than 50 thermal modification chambers and continuously developed our technology to fulfill our customers' various demands and needs.
CONTINUOUS RESEARCH WORK AND DEVELOPMENT
Wood thermal modification is still young as industry. It is now in growth phase. We do a lot of research and test runs together with our customers. In many cases we face new wood species, which are common for our customers, but new for us. Goal of our research work is to find out properties of these various wood species and also feasibility of those species as thermally modified wood products.
Our technology deliveries to different corners of the world and success of our customers as producers of ThermoWood® are good indicators of reliability and feasibility of our technology. Many of our customers have made repeating orders to increase their capacity of ThermoWood® production with Jartek's technology.


EQUIPMENT
Wood thermal modification takes place in high temperatures, approximately in 200 °C, and in precisely controlled conditions. Our equipment is designed to resist these high temperatures; also inside chamber is continuous steam atmosphere and high acidity. We have paid special attention to reliability of different solutions, long lifetime and low maintenance needs. Chamber itself and all components are manufactured from stainless steel.
Process time for one cycle is commonly from 1,5 to 3 days, but it can be also longer, main factors, which influence to process time, are: species of wood, thickness and moisture content at the beginning of thermal modification process. Pre-dried wood in general has shorter process time than green wood. Our process control software, Wintek-process control software, is designed to be user friendly and easy to read. It will generate from all individual processes a process curve as a history file, which can be opened later on and details of process can be observed either as graphic curve or as numbers.
Heating system for our ThermoWood® process is commonly based on thermal oil technology or to direct electric heating. Both can provide very accurate heat control in wood thermal modification process. We have a long partnership with a boiler supplier, who has namely concentrated to thermal oil technology and can provide customized solutions to our customer needs. Together with our boiler partner we have realized most of our ThermoWood® technology delivery projects.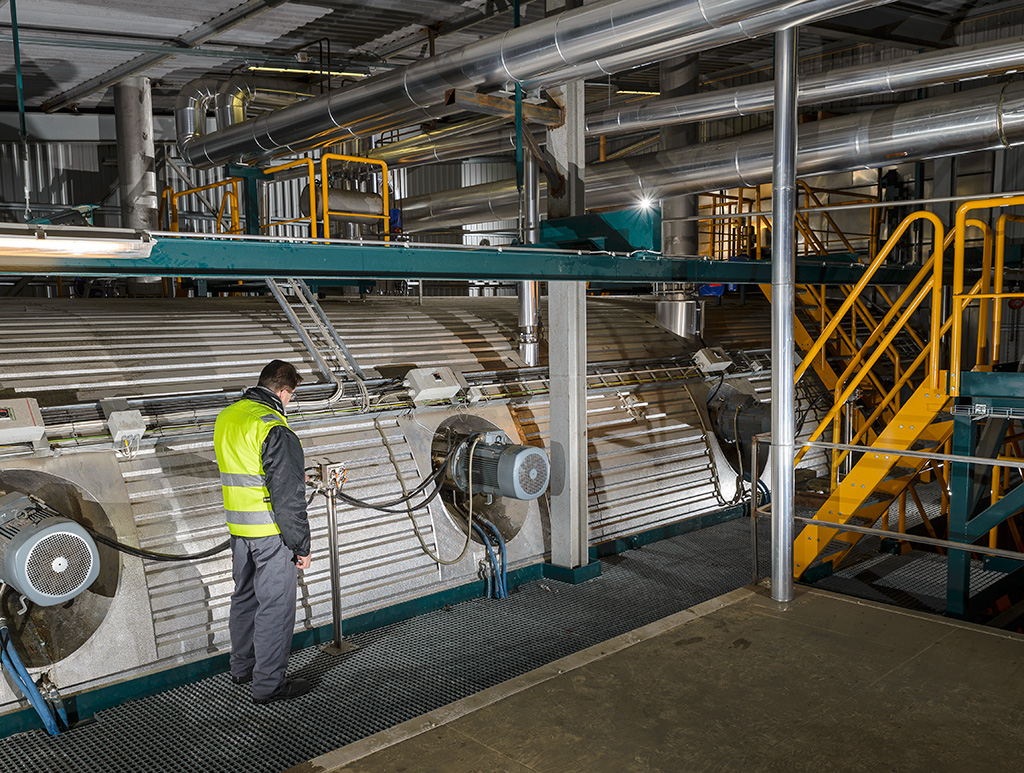 THERMOWOOD® PROCESS
During ThermoWood® process only heat, steam and water is used. No chemicals are added to wood. Process can be divided to three different phases:
1. Temperature increase and final drying phase
Wood temperature is increased rapidly approximately to 100 °C and after that slowly up to 130 – 140 °C. Wood in process can be green or pre-dried. Moisture of wood will be decreased during this phase very close to zero.
When all water has been released from wood and heating process is continued, chemistry of wood start to change. Most remarkable changes take place in hemicelluloses. These changes start already in temperatures around 150 °C, but higher temperatures accelerate modification process. Steam will be present in process in high temperatures. It will act as protection gas; keeps process slightly pressurized and replaces oxygen inside chamber.
2. Actual thermal modification phase
Thermal modification happens in 185-220 °C, based on wanted degree of modification. Temperature is increased to wanted level and kept on this level constant 2 to 3 hours. Steam is injected to chamber to keep chamber oxygen free and to influence chemical changes in wood.
3. Cooling and re-conditioning phase
Process temperature is decreased with water spray. Re-conditioning phase brings back moisture of wood to wanted level, commonly around five percent moisture content. EMC of thermally modified wood is lower than natural wood. Stability of ThermoWood® is very high when it is re-conditioned already during process.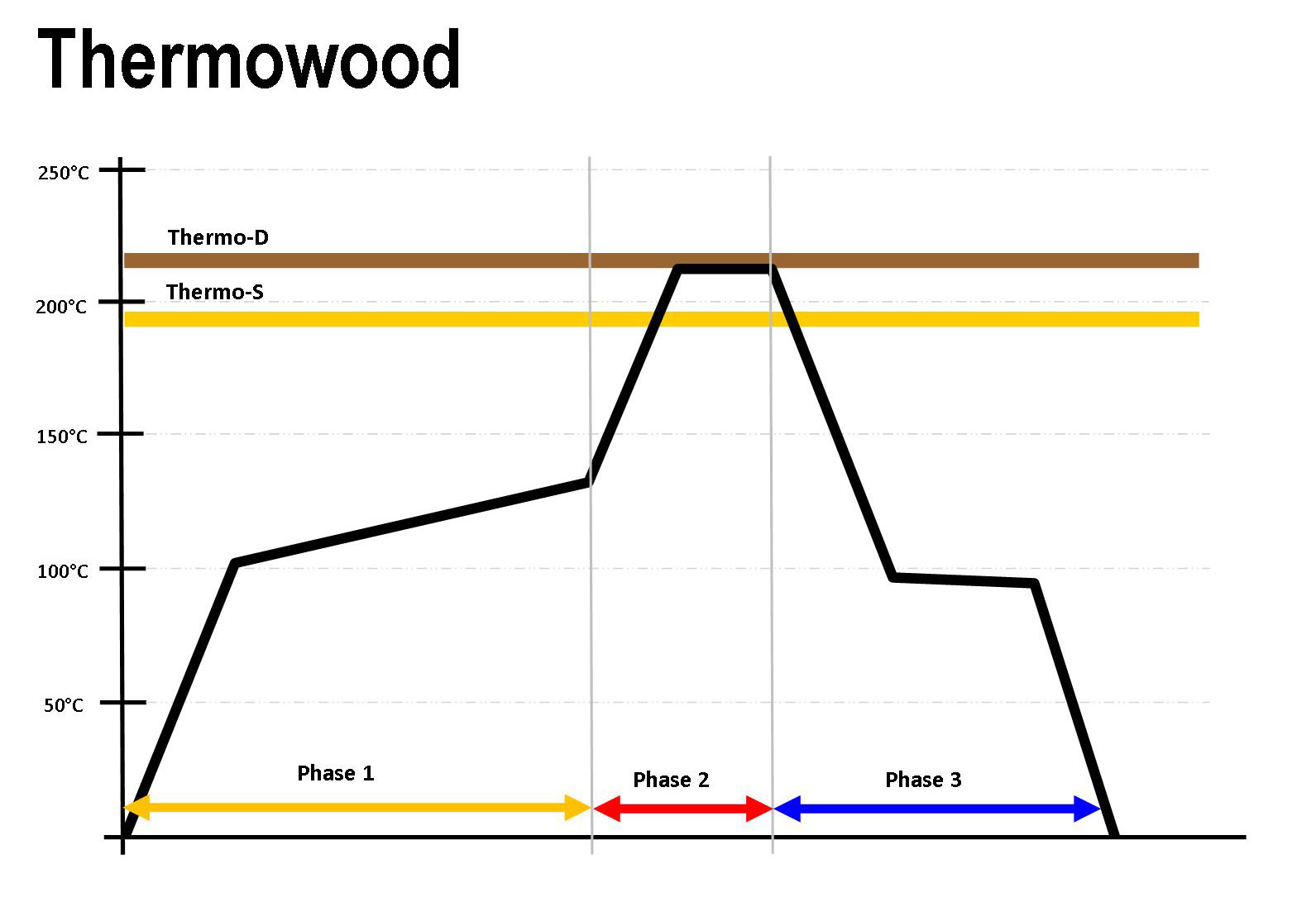 THERMOWOOD® PROPERTIES AND USE
Thermally modified wood has following changed properties:
increased dimensional stability
increased resistance against decay and weather
resin will be removed from softwood species
color change throughout whole thickness of wood
color can be controlled with process temperature
some decrease in mechanical properties, which needs to be taken in consideration in different end uses

these changes will increase usability of wood as follows:
as external siding ThermoWood® dimensional changes will remain very small in changes of air relatively humidity
in high air relatively humidity ThermoWood® will remain in low enough moisture to resist fungus growth
painted thermally modified softwood will not have resin bleed as resin will be removed during modification process.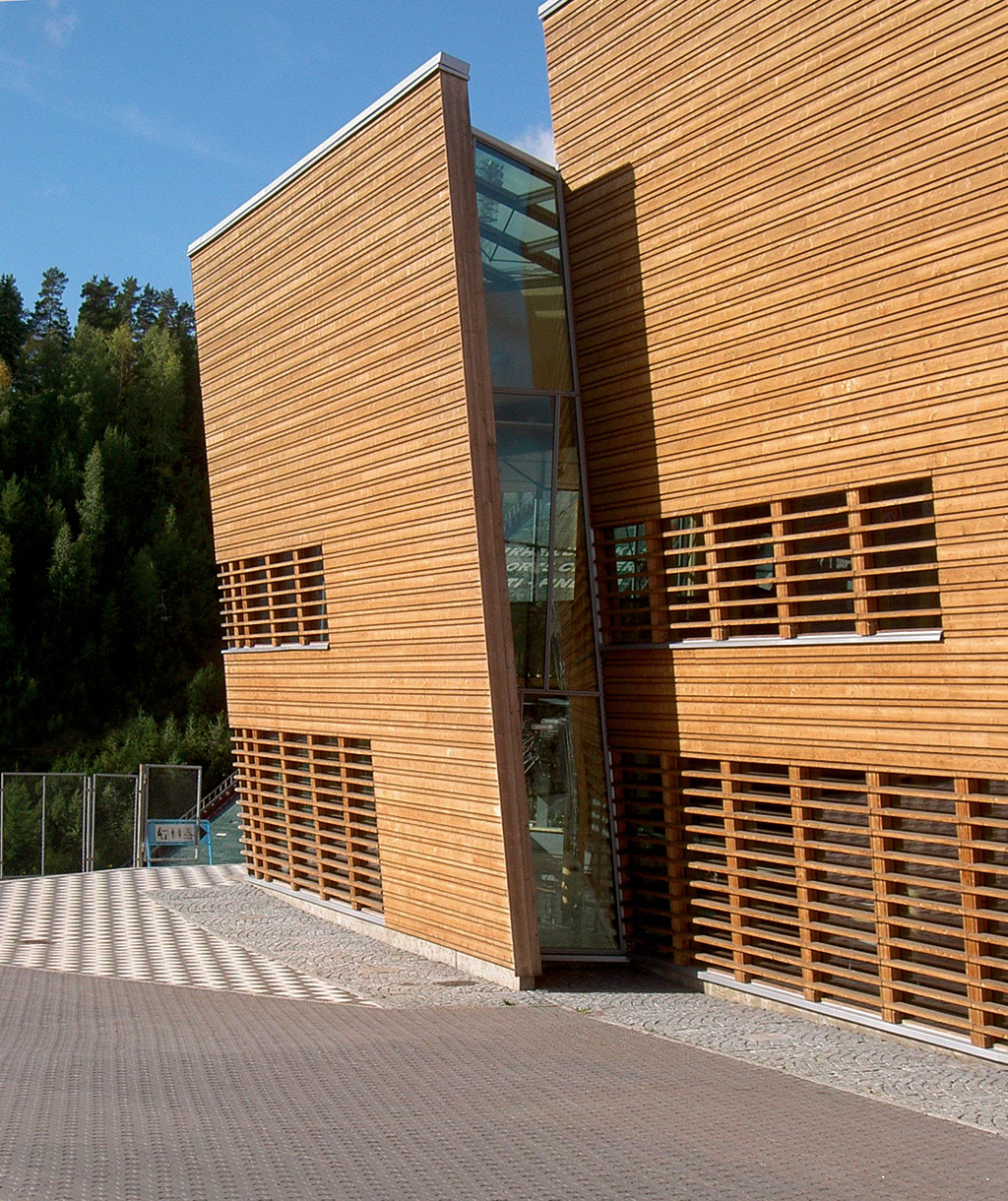 BROCHURES

Here you can view our brochures and get to know our products.
You can find more brochures here.